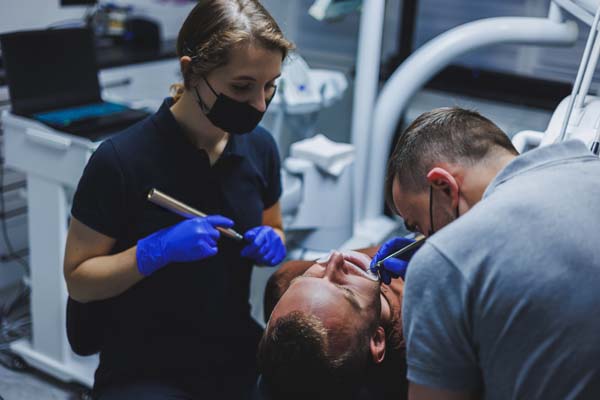 There are a lot of ways to go about whitening your teeth, from over-the-counter teeth whitening treatments to professional teeth whitening from a dentist.
Given the increase in over-the-counter products, many of which are unregulated, it's important to do your due diligence before starting the use of over-the-counter whitening treatment. Additionally, when wanting to pursue teeth whitening, it's best to consult a dental professional first.
In this article, we're going to examine what to consider when choosing between over-the-counter whitening versus whitening from a dentist.
Teeth whitening 101
More people than ever are interested in teeth whitening, particularly as the cost of such treatments has gone down in recent times and the options for teeth whitening have proliferated.
There are a lot of reasons why one might choose to whiten their teeth. The most common reason is that one may feel self-conscious about their teeth and whitening can give a big boost to self-esteem and confidence. The ability to counteract the staining that has occurred over time generally helps to enhance appearance.
Teeth whitening in general works by using hydrogen peroxide, which makes its way through the enamel and begins oxidizing. The teeth will appear whiter once molecules reflect substantially less light. Whend one correctly, teeth whitening can be both safe and effective.
So, let's compare over-the-counter treatments with treatments you can get from the dentist.
Over-the-counter whitening treatments
Over-the-counter whitening treatments vary greatly nowadays, from whitening strips and trays to toothpastes and mouthwashes that promise to whiten the teeth.
These products, like the strips, for example, can be challenging to apply and might also only whiten the front teeth, which may create inconsistencies later on.
Over-the-counter whitening treatments also tend to lack the potency and effectiveness of treatments the dentist can provide, making them a potential waste of hard-earned money. There's also a concern that overuse can significantly damage the teeth (known among dentists as "bleachorexia").
Teeth whitening from a dentist
When interested in teeth whitening, it is best to consult a dentist before taking any personal action. By getting an evaluation from a dental professional, one should have a better understanding of what the options are.
Plus, teeth whitening treatments from a dentist will be safer and more effective than over-the-counter products. When wanting quick and noticeable results, one should consider consulting a dentist.
Typically, a dentist will examine the teeth and gums first to ensure that teeth whitening treatment is an option. Cavities or gum recession will need to be dealt with first before whitening. In certain cases where stains are stubborn, a dentist might recommend dental veneers, which will cover the tooth surface and hide dark stains.
OTC or dentist treatments?
While over-the-counter whitening treatments may save some money in the short term, they are not likely to work as well or last as long as professional treatments.
Plus, in-office treatments can often be done during a regular appointment like for a teeth cleaning, making it a convenient option.
Are you considering teeth whitening in the Metairie area? Get more information from the Charvet Dental Center.
Check out what others are saying about our dental services on Yelp: Teeth Whitening in Los Angeles, CA.
---
Related Posts
June 2, 2022
Teeth whitening is a popular cosmetic dentistry service designed to brighten smiles instantly. Those who want to give their smile a boost can choose to have their teeth whitened professionally by visiting …