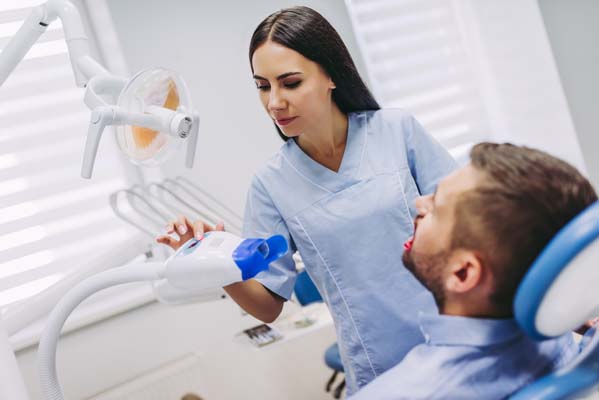 Teeth straightening treatment is typically offered by a general dentist, as it is the simplest form of orthodontics. Two of the most common ways that a general dentist chooses to straighten crooked or crowded teeth is with Invisalign® or clear braces. Having an understanding of both treatment options may be helpful to individuals who are considering a discreet way to have their teeth straightened. Continue reading to find out more.
Clear braces and Invisalign®
Outlined below are quick overviews of both clear braces and Invisalign®. Both treatments can be administered by a general dentist in an effort to offer a discreet method of teeth straightening.
Clear braces
One of the most common ways that teeth straightening can be done is through clear braces. Clear braces offer the same technology that traditional braces do, except the brackets are ceramic and the wires are clear plastic. The ceramic brackets are tooth-colored, which helps with remaining discreet during the treatment process. This combination allows for less attention to be drawn to the mouth, while also providing promising results.
Just like the traditional approach, the general dentist will adjust the wires every few weeks to ensure that the brackets and wires match the shift of the teeth. Over time, the teeth will shift into the desired position, which will lead to straighter teeth overall.
Invisalign®
Invisalign® is one of the most popular ways to undergo teeth straightening treatment currently. General dentists are starting to offer the treatment a lot more because recent advancements have also allowed for it to be used for minor to moderate bite correction. However, as far as teeth straightening goes, the clear aligner technology allows for a very flexible treatment process.
Invisalign® and other clear aligners are to be worn 22 hours a day to ensure promising results. Removal should only take place when eating and performing oral hygiene. Oral hygiene during Invisalign® treatment is crucial as the teeth are constantly enclosed by the aligner piece. Every other month or so, the general dentist will provide a new aligner in the series that will match the shift of the teeth, as was predicted at the start.
The appeal of discreet teeth straightening treatment
Teeth straightening is a great way to improve your smile. It encourages one to show off their smile more, which can boost confidence and improve self-esteem. However, one drawback of teeth straightening traditionally was that the process was not always discreet, which made for an unappealing smile. Metal wires and braces are still the standard for orthodontic treatment; however, advancements in dentistry have allowed for discreet options like clear braces and Invisalign®, both of which are worth considering.
When needing to undergo teeth straightening treatment, it is best to contact a general dentist. An evaluation can be done to determine what the best treatment route is, whether it be one of the options detailed above or another avenue such as traditional braces. To find out more or to get scheduled, reach out today!
Request an appointment here: https://www.viewparkdental.com or call View Park Dental at 3105893147 for an appointment in our Los Angeles office.
Check out what others are saying about our dental services on Yelp: General Dentist in Los Angeles, CA.
---
Related Posts
December 8, 2022
Several behaviors and issues can lead to a cracked tooth. Sometimes, chewing on a hard object or food like a nut or hard candy can cause a crack to develop. Teeth …