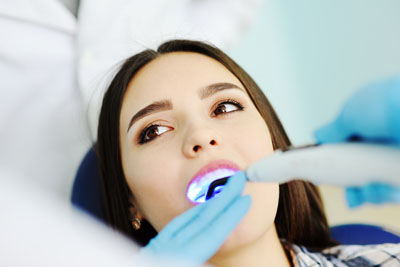 We use dental fillings to restore your missing tooth structure or to help fix a damaged tooth. Many people think of fillings and visualize a mouth full of metal, such as old silver amalgam fillings. While these were a common treatment in the past, they are no longer the standard in dental care. We now offer significantly more appealing treatment options that can mimic your natural teeth.
Many of our patients wonder how fillings work and whether or not they will ever need one. Imagine a healthy and whole tooth. When the bacteria inside of plaque begin to attack the tooth, it can lead to tooth decay (a cavity). In this situation, we must remove the decayed portion of the tooth so that it does not spread into the remaining, healthy portion of the tooth.
After removing the decay and thoroughly cleaning the area, we use a filling to restore the now-missing tooth structure. This way, the tooth will look and feel healthy. We will also not alter the bite. After we complete the treatment, the patient will be able to use the tooth like in the past and bite down without fear of irritation. Treating cavities or decay is a simple process that can save the tooth.
We offer dental fillings to replace your old ones.
In our dental office, we treat patients of all ages and often find that our older patients come in with old fillings that are wearing down. It is possible for a filling to eventually lose its usefulness. This tends to happen when a tooth experiences additional decay. Just because the decayed portion was removed at one time, does not mean that the decay can never come back.
Poor oral hygiene, erosion, etc. can increase the risk of further decay and when this happens it becomes necessary to place a new filing or at least augment the existing one. If a patient currently has amalgam fillings, this is an excellent time to replace them with natural-looking ones.
Benefits of dental fillings
We make it possible for a smile to look healthy and natural. Fillings are part of that process because when we remove tooth decay, we can restore the tooth to full functionality by placing a dental filling in place of the missing tooth structure. We place tooth-colored fillings, so there is no risk of the patient smiling and giving off the appearance of significant dental work. While fillings are a common treatment with cavities, we can also use them after a root canal procedure since we will remove part of the tooth structure during the process.
When you visit View Park Dental, we will ensure that you remain comfortable the entire time so that you can have a pleasant experience. This means that we will use sedation or pain medication as necessary to ensure that placing your fillings will not cause you any undue discomfort. To learn more about your options or to schedule an appointment, call our office today.
---
Related Posts
June 16, 2018
Scheduling a teeth cleaning is one of the most essential steps you can take to make sure you do not have gum or periodontal disease. We find that people who do not regularly engage in …
---